Reviews and Excerpts of
Alan Alda's Books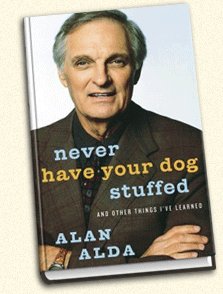 NY Times bestselling book by Alan Alda
Read an EXCERPT of Never Have Your Dog Stuffed
Read an EXCERPT of Things I Overheard While Talking to Myself
Read REVIEWS of Things I Overheard While Talking to Myself


---
Reviewers Say About Never Have Your Dog Stuffed:
Entertainment Weekly
[Grade:] A . . . "The actor's superlative memoir is full of surprises . . . (Alda) writes with witty, self-deprecating honesty; our only complaint is that it's just 224 pages."
---
Los Angeles Times
"Never Have Your Dog Stuffed" is a memoir by of one of the most acclaimed actors of our time, who perhaps is one of the most genuinely humble. Alda seems defined more by his struggles, intellectual pursuits and general sense of wonder than by fame or wealth.
What's striking about this book is not merely the scope of his accomplishments -- personally as well as professionally -- but the sense that the author thinks there's still so much yet to be learned.
---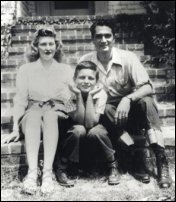 People Magazine
"poignant, funny new memoir about growing up and finding fame."
---
Liz Smith -- New York Post
". . . a cornucopia of delight and informed curiosity . . . this is a wonderful book of fun and philosophy from a genial good-hearted man at the peak of his creativity."
---
The BBHQ Book Review
We know him as Hawkeye Pierce. We also know he is smart, personable, and irresistible. All that comes out in Alan Alda's wonderful memoir . . .
"Never Have Your Dog Stuffed" is a delightful memoir from a delightful man.
---
Publishers Weekly
". . . Alda's conversational style keeps the story on track. It's a brief but entertaining autobiography tempered with humility and a depth rarely found in celebrity memoirs."
---
Classical 103.5, Washington DC
"I hate celeb memoirs. Alan Alda is not a celebrity who desperately wanted to write a memoir. He's a fine writer who happens to be a celebrity."
---
The Sacramento Bee
"The award-winning actor faces life's demons with honesty and humor in this moving memoir."
---
The Houston Chronicle
"Alan Alda's 'odd' childhood -- the son of a burlesque-performer dad and mentally ill mom writes entertainingly about his youth . . . it's hard to argue with his advice and easy to admire this revealing memoir."
---
Chris Matthews, Hardball
"I want everybody to read this book . . . what a great writer."
---
David Mamet
"Most theatrical memoirs are, not surprisingly, structured as dramas -- the climax, fame and accomplishments, is hidden in and formed by the author's early struggles. Mr. Alda's book is rather different, the record runs true throughout: a story of wonder at and curious affection for the odd world around him. It seems to be, in fact, a record of what happened to him, rather than a recitation of the various paths which led to his success -- it is honest and touching and very funny -- like Mr. Alda himself."
---
Brian Greene, author of The Elegant Universe
"Alan Alda's life story is as engrossing as it is moving. I couldn't put it down, and I couldn't stop laughing. With his characteristic wit and humor, Alda's gripping memoir tells of journeys through the worlds of film and theater, family and friends, the occult and science. It's the inspirational story of a man with an insatiable curiosity to understand the inner stirrings of the human soul and the outer workings of the universe."
---
Reviewer Harriet Klausner calls it a "Deep autobiography" and says:

". . . his superbly written memoir grips readers . . . This autobiography is one of the best out there as Mr. Alda lays out his soul including those demons eating at it, but never points the finger at his peers."
---
CultureDose.Net
"Alda continues to welcome and even relish new challenges to his preconceived notions, even when those challenges threaten his health and safety."
---
Pittsburgh Post-Gazette
This is no by-the-numbers memoir. Alda, 69, doesn't dish the dirt, doesn't kiss and tell . . . Alda does what a writer, even one with five Emmy Awards, plus Tony and Oscar nominations, should. He tells a story, with detail, generous amounts of humor, sometimes painful honesty and insight . . . It's 224 pages long and he does what "M*A*S*H" did: He leaves you wanting more. A nice trick, that. It makes you like the guy even more.
---
Booklist (the review journal of the American Library Association)
"Alda, Emmy winning star of television's M*A*S*H as well as a writer and director, candidly details his turbulent childhood and the lessons he learned during his event-filled life in this breezy collection of remembrances and anecdotes . . . Refreshingly, this collection of biographical sketches is written in a good-natured and compassionate way. A large publicity effort is under way for this release, and Alda is a well-liked and well-known celebrity, so librarians should stock up."
-- By Kathleen Hughes
---
Debra Hamel, BookBlog.com
"There's simply nothing wrong with this book. In prose that flows so smoothly you'll want to down the whole of it in one sitting Alan Alda, whose TV personae most of us will have admired for years, shows himself to be in real life an affable, intelligent, intellectually curious, normal, nice guy. Who can write well. He begins with one of the best first lines of a book I've ever read . . . Obviously this book comes very highly recommended. Buy it and enjoy it. Like me you may find yourself reading the last page very slowly in a vain attempt to keep it from ending."
---
CultureDose.Net
". . . as defining as that [MASH] role was, and as validating as the praise and respect it got him turned out to be, it was hardly the end of Alda's journey and education. . . . Alda continues to welcome and even relish new challenges to his preconceived notions, even when those challenges threaten his health and safety. He is living proof that a mind that keeps questioning keeps growing, and that alone is pretty inspirational."
---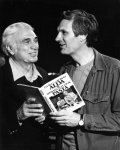 Amazon.com
"Alan Alda's autobiography travels a path less taken. Instead of a sensationalist, name-dropping page-turner, Alda writes about his life as a memory play, an exercise in recollecting his childhood, his parents (dad Robert was a veteran on stage, film, and vaudeville), and his career. You want to know about Alda's most famous work, the eleven years on M*A*S*H? You have exactly 16 pages to do so, and guess what: It's one of the least entertaining parts of the book. But should fans of the award-winning actor-writer-director avoid this slim memoir? Not in the slightest. Slyly humorous and open-hearted, Never Have Your Dog Stuffed is a breezy, most enjoyable read. Alda's ability to recall his childhood (including backstage at raunchy vaudeville shows), school years, stage struggles and successes is as entertaining as one of his Emmy-winning teleplays. Alda is inordinately attune recalling life's crystallizing moments: when religion no longer worked for him, how something in his pocket made him forever a better actor, or his mother's painful descent into dementia. Alda's ever present humor is a great asset whether telling a charming love story on meeting his wife Arlene or a life-threatening illness in a remote part of Chile ("I am in and out of consciences, but I never take a break from the screaming. The show must go on."). Like Alda's persona, his book is more human and less flash. What would be filler in most books is often the mot entertaining and revealing here; especially Alda's dynamic relationship with his parents. Really, who else would name his memoir after an unfortunate trip to the taxidermist? The year the book was published during a revival for the 69-year-old; he was nominated for an Oscar, Emmy, and Tony in the same year."
--Doug Thomas
---
Publishers Weekly Says of the Audio Book:
"While listening to Alda's colorful and often poignant recollections, it becomes clear that, in addition to being a consummate actor, he is an introspective storyteller who isn't constrained by memory.. . With a touch of wonderment in his voice, he tells of weeks spent traveling with his father's burlesque company, of time spent with his dog Rhapsody (before he was stuffed), of a lifetime spent coping with his mother's mental illness and of the highs and lows of his acting career. ...Alda's intimate, dynamic narration makes one feel as if you're sitting across from a wise and entertaining friend, the kind you could listen to for hours."
---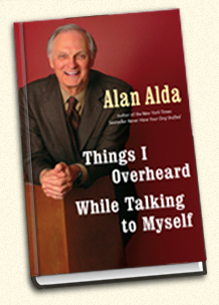 NY Times bestselling book by Alan Alda
Read an EXCERPT of Never Have Your Dog Stuffed
Read an EXCERPT of Things I Overheard While Talking to Myself
Read REVIEWS of Never Have Your Dog Stuffed


---
Reviewers Say About Things I Overheard While Talking to Myself:
Publishers Weekly (Starred Review):
"After actor Alda (Never Have Your Dog Stuffed) recovered from a nearly fatal intestinal obstruction, he decided to live as if he'd been given a second life. To make his new life as meaningful as possible, he wanted to remember those rare moments when a special stillness had come over him, the kind that hits you when you hear something that goes to the core of who you think you are. These were moments when he'd had some understanding about the meaning of his life, his reason for living -- the central questions that Alda grapples with, as he looks back over his life. While poking good-natured fun at some of his earlier rhetoric (the ravings of a naïve Hollywood liberal) he shares highlights of the various commencement speeches and keynote addresses he's given to future doctors and physicists, or even to the odd group of Jefferson scholars. He phrases it differently for each audience, but the message is consistent: It's not what you do in life, but how you do it. Notice everything. Always be open to new ideas, new experiences. Alda is chatty, easygoing and humble, rather like a Mr. Rogers for grownups. His words of inspiration would be a perfect gift for a college grad or for anyone facing major life changes."
---
Sydney Sun Herald:
"Engagingly thoughtful and thought-provoking . . . [Alan Alda] candidly shares many stories of his life, so easily and wittily you can hear him speak as you read."
---
San Antonio Express-News:
"Smart, engaged, funny and observant."
---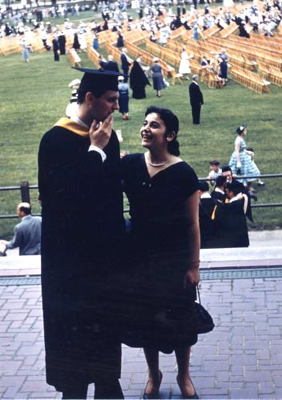 BookLoons.com:
"Who hasn't heard of Alan Alda, who tickled our hearts and funny bones for so many years as Hawkeye Pierce in M*A*S*H and recently wrote the hilarious but very touching memoir, Never Have Your Dog Stuffed? In it he shared - in his own inimitable fashion - much of what he has discovered about acting, about creativity, and about life."
Now, Alan Alda begins Things I Overheard While Talking to Myself (where does he get these great titles?) where the last book ended, discussing his near death experience in Chile and the lease on life that surviving it has given him. He tells us that he kept asking himself 'What should this new life be like?', looking for a fresh approach. In an interview, he talks of wanting to get the 'most juice' out of the life given back to him, and to have it filled with 'aliveness and satisfaction'. So he looks back on the advice he's given to others over the years - in college commencements and similar addresses - and considers whether or not he's lived up to his own words.
Having suffered through several high school graduation speeches in the last couple of years (only one of which impressed me) I was thrilled to read Alda's words to his daughter Eve and her graduating class, and wish my sons had heard his heartfelt wisdom (they'll just have to read it instead). Father tells daughter to 'Love your work'; that 'you have the chance to keep getting better at the things you work at'; to 'keep laughing' and challenge assumptions; 'Be fair with others; then keep after them until they're fair with you'; 'that life is meaningless unless you bring meaning to it'; that 'you can dig into the world and push it into better shape'; and to '>have chutzpah.
He continues through the book to review past speeches, and to talk about values, pushing limits, trying new things, and always challenging yourself. He suggests that we rank our values and then consider how much time we actually spend on what's important to us. He compares Thomas Jefferson to a Chinese scientist named Yuan Long Ping; reflects on Simon Wiesenthal's soul; talks of the joy involved in performing any art and of the 'daunting challenge of the humanities'; recalls actors' response 'through the only action they knew' in the aftermath of 9/11; muses on the death of friends and 'What made their lives count' to him; and - based on his work with Scientific American Frontiers - suggests how to make science more accessible to modern Luddites.
In Things I Overheard While Talking to Myself, Alan Alda offers remarkable life wisdom, reminding us that 'time is all we have'. He advises us to 'Find someone to laugh with'; 'Find something to laugh at'; and 'Keep moving.' On creativity, he tells us that 'The poet puts the right words in the right order so that the colliding of their sounds and meaning makes your neurons flash like a pinball machine.' There's poetry in Alan Alda's soul and he uses it to communicate his own recipe for a good, even meaningful, life. Do yourself a favor - read this amazing book and share copies with the people you care about most."
---
Boston.com (Reviewed by Dave Lifton):
"How can an actor say anything new about Thomas Jefferson to a roomful of scholars at Jefferson's home at Monticello? According to legendary actor and writer Alan Alda, you do it not by regurgitating the words of previous historians, several of whom might actually be in the room, but by recounting the story of a biologist who transformed rice production in China, much as Jefferson had done in America.
Throughout his career, Alda's standing as one of the most articulate and insightful celebrities has given him the opportunity to deliver many commencement speeches, keynote addresses, and even eulogies. Now, he has compiled many of these speeches in his new book, Things I Learned While Talking to Myself, which acts as a companion to his 2006 memoir, Never Have Your Dog Stuffed.
While addressing the graduated class at Caltech one year, Alda used his experience in portraying the late Caltech professor Richard Feynman to implore the students to share their love of science with the world.
"Tell us frankly how you got there," he writes. "If you got there by many twists and turns and blind alley, don't leave that out. We love a detective story….Most scientists do leave that out…and it doesn't sound like a human thing they've done. It separates us from the process."
Alda wisely heeds his own advice in the book. He begins each chapter by telling a story, either about his family, professional career, friends, or political activism. Then he describes how that anecdote relates to a speech he was asked to give, and how he overcame the challenges involved. Then he provides excerpts from the speech, breaking in when necessary to talk about what he learned from the experience.
Had the book been solely a collection of the transcripts of the addresses, the book would be an exercise in self-indulgency. Instead, he comes across in a manner very much in line with his persona as a devoted family man whose spare time is devoted to the pursuit of knowledge. He also cuts the inherent pretension in any "life lessons" book with a conversational tone (you can hear Alda's trademark inflections as they read) and plenty of self-deprecating humor.
As a lifelong M*A*S*H freak, I've often suspected that Alan Alda, through his Hawkeye Pierce character, has been inside my head to give me guidance throughout my life. Now, with Things I Overheard While Talking To Myself, that becomes one step closer to reality."
---
Parade Picks:
"Equal Parts Humor and Heart.

After nearly dying in 2003, actor Alan Alda decided to take stock of his life. The result is Things I Overheard While Talking to Myself (Random House, $25), an earnest and insightful look at critical events in Alda's past, including a speech contest at 14 and the filming of the first M*A*S*H episode."
---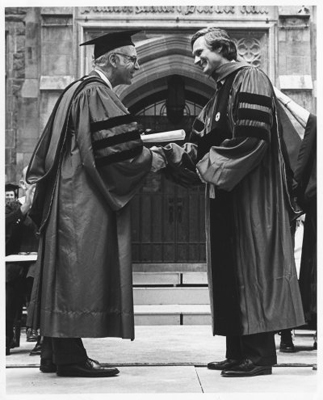 Curledup.com:
"What is the meaning of life? What is the good life? Does your life have meaning? Countless people have posed this question and tried to answer it, and Alan Alda takes a crack at it in his latest book of essays, Things I Heard While Talking To Myself.

Armed with commencement speeches, eulogies, and decades of memories, Alda leads us on a tour of his own life's lessons. It's similar to sitting on the living room floor in front of the fireplace while Grandpa delivers cautionary tales. That is, if Grandpa were a famous actor. With Hollywood and Broadway as a backdrop, Grandpa's stories about his life add another dimension of celebrity to those tales.

Virtually every chapter is crafted to begin and end with a specific theme, accompanied by a speech or two that demonstrates that theme. One thought-provoking point includes the hypocrisy of ranking of our values while spending an inversely proportionate amount of time on things that do not support those values. Alda clearly ranks family, love, environmental responsibility, ethics, equal rights, and self-determination high on his list of values. Like many parents, his first conclusion to the meaning of life was the birth of his first child. Many years later, he delivers a speech to a graduating class whose audience includes her. He advises us to not force our children into some mold but to simply love them.

Alda conveys the insightful lesson that while you can't save the world, you can make a difference in another person's life. Or ten people. Or more. Stop complaining and start doing. You and the people you help are better off each time you do. Like interest over time, it all adds up to something significant and measurable. Be patient, Alda says.

Much of Alda's wisdom is accompanied by humility, a key factor in making his claims of such wisdom credible. Some writers spew forth their knowledge as if they were born with it, and it is therefore not to be questioned. Alda's stories are honest demonstrations of fallibility and full of passion. While the speeches themselves are at times platitudinous, that's what speeches are, and in this book they are framed as such. Still, it does take a little away from the enjoyment of Alda's storytelling and as a result is slightly less entertaining than his previous book, Never Have Your Dog Stuffed.

As each chapter comes full circle in theme, so too, does the book as a whole. His final chapter begins as a commencement speech to the reader but includes a poignant one he delivered at a college in 2003. It is in this same changing pattern that he tries to tell us what the meaning of life is. It comes across as: Life is this; well, actually maybe it's this; oh yeah, and this. He tries to boil it down to just a few words and ultimately one word. The reader may get the feeling that Alda still hasn't quite made up his mind and, given more time, he would resummarize it, and maybe that's the point. But while he may have a different decision in his next book, the answer still wouldn't change for us: that we define our own meaning. It is not intended as a cop-out but just the simple truth.

Come next June, when you're looking for a graduation gift, this book is packed with entertaining advice to send them out into the real world. It's surprising that the marketing wizards behind this book's publication didn't schedule its release with that in mind."
---
Book-Blog.com:

"Alda has a smooth storytelling style that transports the reader.
Nearly dying from an intestinal blockage in 2003 had a profound effect on Alan Alda. It brought him a second life and, with it, a first book, his bestselling memoir Never Have Your Dog Stuffed, published in 2005. Happily, Alda's appetite for introspection, intensified by his near-death experience, was not satisfied by the one foray into autobiography. He was moved to write Things I Overheard While Talking to Myself as a means of answering a question that had begun pricking at him. After leaving death behind in a Chilean hospital, along with three feet of intestine, Alda began to wonder whether he had lived a meaningful life and to ask himself, more generally, what constitutes a meaningful life.
The title of Alda's book alludes to the approach he adopted in trying to come up with an answer to that question. Alda dug up speeches he had delivered on various occasions over the years, talks which he'd attempted to infuse with some wisdom pertinent to the occasion. Many of these speeches were delivered at commencement ceremonies, but Alda also talked to historians at Monticello and to psychiatrists at Cornell. He spoke at a ceremony honoring Simon Wiesenthal. He delivered eulogies for Ozzie Davis and Peter Jennings and Anne Bancroft. He spoke over the grave of his grandchildren's dead rabbit.
Alda structures the book around excerpted passages from these speeches, but Things I Overheard While Talking to Myself is by no means wholly or even primarily a collection of excerpts. Rather, Alda uses the excerpts as writing prompts, wrapping stories from his life around them. In one chapter, for example, Alda excerpts passages from a talk he delivered at Emerson College in 1977 on the subject of living up to one's values. He seamlessly weaves a handful of stories around the quotes--the author being slapped as a four-year-old for off-color humor and upstaged by a quarterback a decade later; picket lines and cigarette ads and Bert Convy's heroics. As we saw in his first book, Alda has a smooth storytelling style that transports the reader. Once he begins on a reminiscence--traveling on the Orient Express, meeting his agent, biting his mother's watch--the pages turn themselves.
Insofar as they interrupt the flow of the narrative, Alda's excerpted speeches--if arguably the raison d'être of the book--are actually its weakest part. One feels less of a connection with the author when reading them, perhaps because we are not in fact their intended audience: he didn't write the speeches for us, after all, but for a specific audience on a specific occasion.
What, then, makes for a meaningful life? Alda has found his answer, and it's unlikely to surprise readers unless they're living the life of Lindsay Lohan. But arriving at the answer will surely not be the point for most of us. As in life, so with a good book: it's the going, not the getting there that's good.*"
*Phrase borrowed from Harry Chapin's Greyhound.
---
Rambles.net:
"Alan Alda told the American Academy of Arts graduating class, "Show up on time. Know your lines. Respect your director, your fellow actors and yourself." He advised them always to tell fellow actors "you were wonderful," whether they were or not. Not "the play was wonderful." That means the actor wasn't. He goes on to say, "There's an ecstasy to acting, and that ecstasy is a glorious experience, but acting is something else, too. It's a service to the people who come to the theater." Alda's latest book, Things I Overheard while Talking to Myself, is Alda's service to his many fans.

Alda writes that many people believe he is a doctor (he has spoken to graduating medical students) because of his 11-year comedy stint as Hawkeye, the disaffected, sarcastic but compassionate war-time doc on the enormously successful TV series M*A*S*H. A neighbor even confessed to him she had thought of calling him in a critical medical emergency. But though Alda is not Hawkeye the doctor, he embodies something of Hawkeye's wit and certainly his compassion. Alda is a long-time activist and idealist who has given back much to the audiences that enjoy his work.

Things I Overheard is a bright, well-paced mix of Alda's speeches, mostly to college graduating classes, juxtaposed with events from his long life. It is the second memoir he has undertaken in recent years (the first was Never Have Your Dog Stuffed, also reviewed on Rambles.NET), proving that the actor and director is also comfortable as an author.

Alda once gave up a chance for a $50,000 paycheck because he wouldn't do a cigarette commercial. "That was when values kicked in." He's always chosen his material with an eye to its social content, and also managed to make his productions, when he had the say-so, vehicles for other people's talents. The book is peppered with stories both hilarious and tender, about Alda's aspirations, some of his failures and his encounters with daughters and grandchildren. He writes about Ossie Davis, Ruby Dee, Anne Bancroft and the heroic workers cleaning up in the aftermath of 9-11 (he sent them a truckload of Hershey bars).

Toward the end of the book he quotes himself from a speech made in 2003, "We have the miserable luck to live in fascinating times." This means anything could happen. He advises those graduates, "Don't let the world tell you that success is a big house if you think success is a happy home." These are the kinds of aphorisms that are strewn almost carelessly throughout this delightful upbeat book.

I'm not sure Hawkeye was an optimist, but I'm sure Alan Alda is."
---
Superperformance.com (Review by C.S. Clarke, Ph.D.):

"Things I Overheard While Talking to Myself is a philosophy book. Yes, really. It is about meanings and values and thinking and learning from experience. True "meaning of life" stuff. Literally. But, be undaunted -- it is done with fun, humor, warmth and sensitivity. In plain English. It's full of fascinating stories drawn from the author's own life; a richly interesting life.
Alan Alda looks at his own writings from the past -- his speeches -- in which he has publicly declared his philosophies of life. He quotes from those speeches he has selected as representative of his quest for meaning in life. And he intersperses them with relevant vignettes from his experience. In that way, he examines his own values and the sources of those values.
He reveals himself as a lifelong learner, a man of insatiable curiosity engaged in an incessant search for knowledge and understanding -- especially self-knowledge -- and insight. He shows his penchant for rigorous research in his gathering facts and statistical support for his ideas and conclusions. It is easy to see how he might have wished to be a scientist at times, since he proceeds so much like one in preparing speeches. (And I'm sure his 11 years of interviewing scientists for Scientific American Frontiers contributed to his methodological and empirical approach.) He does what he has suggested scientists do. He takes complex information, ideas and analyses and converts them into stories, analogies and mental images that make them understandable and relevant to the average guy or gal.
So, he models for you how to approach the search for meaning and values in life and how to think about what you find in that search. All the while, he is entertaining you as well with his own search, his own findings and his own conclusions.
By the time I finished the book, I was sure that the people who are the author's friends are lucky folk. What a pleasure it must be to just have a chat with someone who takes such care with his thinking and such time to craft his thoughts into usable insights he shares without defense. Ah well, the rest of us have his book."
---
Lifetwo.com:
"At first blush a more accurate title for this book might have been "Commencement Speeches That I've Given Over the Past Thirty Years." Having been a popular speaker at university commencements and other events, Alda found himself with a drawer full of well-written advice that had been doled out over the past three decades which gave him a good starting point for a follow up to his popular Never Have Your Dog Stuffed.

Like everyone else, I knew Alda as a wildly successful actor on TV, film and the stage. But in the process of reading Things I Overhear While Talking to Myself, I learned two important things about him. First, he is an amazing speech writer and it is easy to see why he was in such demand. He threads personal experience, introspection, and world events into a motivating story that makes the grads listening want to rush out and improve the world. The second thing that I learned about Alda was that a few years ago (2003) he survived a near-death experience that forever changed his outlook on life. He doesn't look ahead wondering how to best spend his remaining days. Instead, he wonders how to best spend these bonus days. The difference is hardly subtle and everything he now writes is run through this filter.

Without this second part, the book would have been nothing more than a collection of well-written speeches and could have been called "The World According to Alan Alda." But now, post his near-death experience, Alda is on a mission to find ever-more meaning in his life and it's clear that simply publishing a book of speeches is not part of that plan. So he takes the speeches as a starting point and then weaves commentary about what he was thinking then versus what he knows now. This is compelling and Alda is uniquely positioned to pull it off. How many other people have written record of the advice that they were giving young people about what to do in the real world and then have the perspective that someone who nearly died has with which to reinterpret and re-prioritize what he wrote? The clear goal of the book is to motivate us to improve our lives but without having to first almost die.

One other aspect of the book worth noting are the anecdotes that pepper each section that include his experiences doing M*A*S*H, negotiating his first motion picture contract, dealings with agents and managers, and meeting Simon Wiesenthal, to list a few.

All-in-all, it's an interesting and quick read with more than a few passages that will make you stop and think about your own life, values and bonus days."
---