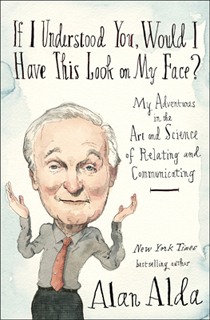 If I Understood You, Would I Have This Look On My Face?
My adventures in the art and science of relating and communicating
The publisher, Random House, describes the book as follows:

"From iconic actor and bestselling author Alan Alda, an indispensable guide to communicating better—based on his experience with acting, improv, science, and storytelling.
The acclaimed actor shares fascinating and powerful lessons from the art and science of communication, and teaches readers to improve the way they relate to others using improv games, storytelling, and their own innate ability to read what's probably going on in the minds of others. With his trademark humor and frankness, Alan Alda explains what makes the out-of-the-box techniques he developed after his years as the host of Scientific American Frontiers so effective. This book reveals what it means to be a true communicator, and how we can communicate better, in every aspect of our lives—with our friends, lovers, and families, with our doctors, in business settings, and beyond."
---
Hardcover | 240 Pages | Random House | Personal Growth, Science and Business
Jun 06, 2017 | 978-0812989144 (978-0812989144)
Available in Hardcover, Paperback, Ebook, Audio CD, and Audio Download
Available for Order now!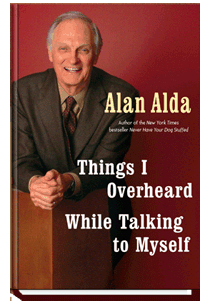 Things I Overheard While Talking to Myself
The publisher, Random House, describes the book as follows:

"On the heels of his acclaimed memoir, Never Have Your Dog Stuffed, beloved actor and bestselling author Alan Alda has written Things I Overheard While Talking to Myself, an insightful and funny look at some of the impossible questions he's asked himself over the years: What do I value? What, exactly, is the good life? (And what does that even mean?)

Picking up where his bestselling memoir left off -- having been saved by emergency surgery after nearly dying on a mountaintop in Chile -- Alda finds himself not only glad to be alive but searching for a way to squeeze the most juice out of his new life. Looking for a sense of meaning that would make this extra time count, he listens in on things he's heard himself saying in private and in public at critical points in his life -- from the turbulence of the sixties, to his first Broadway show, to the birth of his children, to the ache of September 11, and beyond. Reflecting on the transitions in his life and in all our lives, he notices that 'doorways are where the truth is told,' and wonders if there's one thing -- art, activism, family, money, fame -- that could lead to a "life of meaning."

In a book that is candid, wise, and as questioning as it is inclusive, Alda amuses and moves us with his unique and hilarious meditations on questions great and small."
---
Paperback | 252 pages | Random House | Biography & Autobiography
978-0812977523 (0812977521)
Reprint edition September 9, 2008
Available in Paperback, Ebook, and Audio Download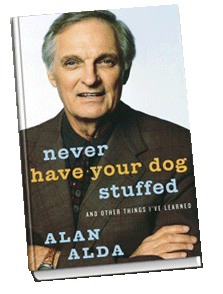 Never Have Your Dog Stuffed and Other Things I've Learned
The publisher, Random House, describes the book as follows:

"...Alan Alda has written a memoir as elegant, funny, and affecting as his greatest performances.

'My mother didn't try to stab my father until I was six,' begins Alda's irresistible story. The son of a popular actor and a loving but mentally ill mother, he spent his early childhood backstage in the erotic and comic world of burlesque and went on, after early struggles, to achieve extraordinary success in his profession.
Yet Never Have Your Dog Stuffed is not a memoir of show-business ups and downs. It is a moving and funny story of a boy growing into a man who then realizes he has only just begun to grow.
It is the story of turning points in Alda's life, events that would make him what he is–if only he could survive them.
From the moment as a boy when his dead dog is returned from the taxidermist's shop with a hideous expression on his face, and he learns that death can't be undone, to the decades-long effort to find compassion for the mother he lived with but never knew, to his acceptance of his father, both personally and professionally, Alda learns the hard way that change, uncertainty, and transformation are what life is made of, and true happiness is found in embracing them.
Never Have Your Dog Stuffed, filled with curiosity about nature, good humor, and honesty, is the crowning achievement of an actor, author, and director, but surprisingly, it is the story of a life more filled with turbulence and laughter than any Alda has ever played on the stage or screen."
---
Paperback | 272 pages | Random House | Biography & Autobiography
978-0812974409 (0812974409)
Reprint edition September 12, 2006
Available in Paperback, Ebook, and Audio download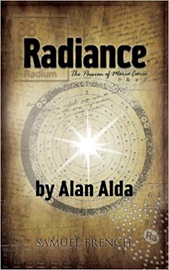 Radiance: The Passion of Marie Curie
A play written by Alan Alda.

With backbreaking work in a ramshackle lab in Paris, Marie Curie and her husband Pierre achieve a revolutionary understanding of radiation and share a Nobel Prize. When her beloved Pierre dies in an accident, Marie is plunged into depression. Paul Langevin, fleeing an unhappy marriage, gives her the strength to return to her work. But the scandal over their affair threatens to end her career - just when she might become the first person ever to receive a second Nobel Prize.

---
Paperback | 72 pages | Samuel French | Play
978-0573700606(0573700605)
February 6, 2013
Available in Paperback
Copyright © Alan Alda .
All Rights Reserved.

Website developed and maintained by Three Faces of Eve Web Design